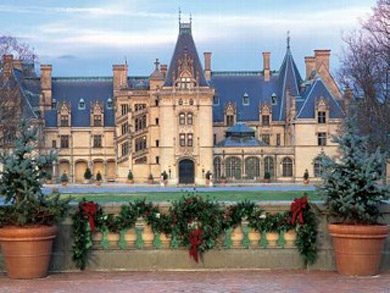 The Biltmore Estate
December 9-12, 2012
The Biltmore Estate is an educational travel program dedicated to the historic, cultural, and culinary aspects of the Biltmore Estate, George Vanderbilt's 8000-acre estate near Asheville, North Carolina.
Travelers will:
Pre-departure and on-site instruction
Welcome reception and private dinner
Tour of the Biltmore House
Brews Cruise, a exclusive glimpse of Ashevilles's award-wining local beer scene
Culinary Demonstration at the Lioncrest Chestnut Room
Winery tour and guided tasting
Candlelight visit to the Biltmore House
Farewell candlelight dinner at the Stable Café on the Biltmore Estate

Accommodations are provided at the following locations:
Inn on the Biltmore Estate
Positioned on the 8000-acre estate, the Inn provides luxurious accommodations with beautiful woodland views from all the guest rooms. Hot tub, fitness center, and a library are available to make your stay even more enjoyable.
Included in the program cost:
Pre-departure educational material
All accommodations and most meals
Group tours and culinary demonstration
Excluded from the program cost:
Transportation to and from the airport
Round-trip airfare to Asheville
Travel insurance
Individual activities and dinner during free time in Asheville
Tips