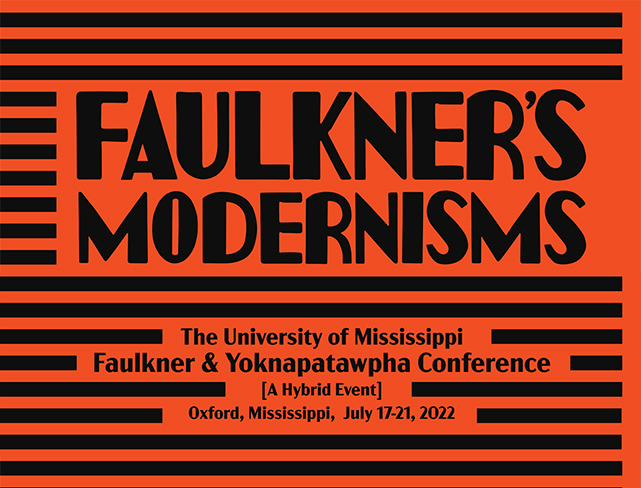 Faulkner's Modernisms
The University of Mississippi
Faulkner and Yoknapatawpha Conference
A Hybrid Event
July 17–21, 2022
The University of Mississippi announces the Forty-Eighth Annual Faulkner and Yoknapatawpha Conference. The conference is sponsored by the Department of English and the Center for the Study of Southern Culture and coordinated by the Division of Outreach and Continuing Education.
2022 Conference Program
Could anything be more uncontroversial than to identify William Faulkner as a modernist writer? And yet—in a contemporary moment characterized by the renewal, expansion, diversification, and general flourishing of modernist studies scholarship, we can no longer take for granted what that modernism was, is, or might have been, or in what it might have inhered. Where was Faulkner's modernism—amidst what competing or nested geographies of modernity should we locate it? When was that modernism—how should we periodize it? Which literary, artistic, or intellectual contemporaries, precursors, or successors best illuminate what Faulkner's modernism was—and wasn't? And what new approaches to modernist aesthetics might be generated by taking Faulkner as Exhibit A? The 48th annual Faulkner and Yoknapatawpha conference will take up the venerable but also excitingly new question of Faulkner's literary and other modernisms. In addition to five keynote lectures, the conference program will include panel presentations, guided daylong tours of North Mississippi and the Delta, and our ever-popular sessions on "Teaching Faulkner."
The conference will begin on Sunday, July 17, with a reception at the University Museum, after which the academic program of the conference will open with a keynote address and the program's first scholarly panel, followed by a buffet supper on the grounds of Faulkner's home, Rowan Oak. Over the next four days, a busy schedule of lectures and panels will also make room for teaching sessions, an afternoon cocktail reception, a picnic served at Rowan Oak, guided tours, and a closing party on Thursday afternoon, July 21. Throughout the conference, the University's J. D. Williams Library will display Faulkner books, manuscripts, photographs, and memorabilia. The University Press of Mississippi will exhibit Faulkner books published by university presses throughout the United States, and there will be a display, with books for sale, by Faulkner collector Seth Berner, who will also give a brown bag lunch presentation on "Collecting Faulkner."
2022 Program Participants
View conference abstracts provided by program participants on the 2022 Conference Abstracts page.
Brooke P. Alexander is visiting assistant professor at the University of Mississippi. She completed her BA in Studio Art with a minor in English in 2015 from Athens State University and her MFA in Studio Art with a concentration in Painting in 2018 from the University of Mississippi. Her work has been shown regionally and nationally.
Ted Atkinson is associate professor of English at Mississippi State University and editor of Mississippi Quarterly. His publications on Faulkner include Faulkner and the Great Depression: Aesthetics, Ideology, and Cultural Politics and essays in edited collections and journals, most recently, "Faulkner on Omnibus: A Portrait of the Artist as a Cultural Ambassador in the Making" in American Studies.
Seth Berner discovered in high school William Faulkner and that some books are more equal than others, and has been an obsessed book collector ever since. This is Seth's twenty-third Faulkner and Yoknapatawpha Conference, give or take a dozen, and his thirteenth speaking on collecting Faulkner. Seth's online book catalog can be found at www.bernerbooks.com.
Johannes Burgers is assistant professor of English and Digital Humanities at Ashoka University and associate director of Digital Yoknapatawpha. His research focus­es on the intersections between transnational modern­ism, racial theories, sexology, and aesthetics. His work for DY includes creating visualizations that provide new views into Faulkner's world. He has a series of forthcoming essays on the implications of these visual­izations for Faulkner studies and the digital humanities more generally.
James B. Carothers came to his first Faulkner and Yoknapatawpha conference in 1979, where he met an ex­traordinary gathering of young Faulknerians who would shape the scholarship and criticism of Faulkner studies over the next thirty-plus years through the Faulkner Journal, the University Press of Mississippi's Reading Faulkner volumes, the "Teaching Faulkner" sessions at the conference, and the Digital Yoknapatawpha project. He has attended every Faulkner and Yoknapatawpha conference since.
Ben Child is associate professor of English at Colgate University and the author of The Whole Machinery: The Rural Modern in Cultures of the US South. His work has also appeared in journals such as American Literature, Modern Fiction Studies, and Southern Cultures.
Michał Choiński is associate professor of American Studies at the Jagiellonian University, Kraków, Poland. Choiński is the author Rhetoric of Revival (2016) and Southern Hyperboles (2020). In 2022, he'll be a senior Fulbright Fellow at Yale University, writing his third monograph, on figurative representations of homecom­ing in the South.
John Michael Corrigan (johncorrigan.me) is pro­fessor of English at National Chengchi University in Taiwan. His books include American Metempsychosis and Romantic Legacies. He serves as a senior editor of Digital Yoknapatawpha.
David A. Davis is director of Fellowships and Scholarships, professor of English, and associate di­rector of the Spencer B. King Jr., Center for Southern Studies at Mercer University. He is author of World War I and Southern Modernism, which won the Eudora Welty Prize, and dozens of essays on southern literature. His book Driven to the Field: Sharecropping and Southern Literature is forthcoming.
Maggie E. Morris Davis researches representations of children in poverty in American literature, culture, and children's literature. Her work has most recently been published or is forthcoming in Adaptation Before Cinema (in Palgrave's Adaptation and Visual Culture series), Canadian Review of American Studies, and Middle West Review. She works in the department of English at Illinois State University.
Leigh Anne Duck is associate professor of English at the University of Mississippi, where she also serves as editor of The Global South. Duck is author of The Nation's Region: Southern Modernism, Segregation, and US Nationalism (2006) and over two dozen essays and chapters concerning literary and visual representations of the US South, often including transnational networks. Her current book project is titled Extraction, Expression, and Hollywood South: On Location in Louisiana.
John N. Duvall is Margaret Church Distinguished Professor of English and editor of MFS: Modern Fiction Studies at Purdue University. His new edition of Faulkner's Knight's Gambit, which restores over 4,000 words that editors cut, will be published in September by the University Press of Mississippi.
Jack D. Elliott Jr. resides at the extinct town of Palo Alto, Mississippi, which was founded by his family in 1846. The experience of history and place has given him a strong interest in the historical geography of his area and the personal connection to historical places. Retired as an archaeologist with the Mississippi Department of Archives and History (1985–2010), where he identified the site of Fort Rosalie and began the political effort that led to the establishment of the Natchez National Historical Park, he also taught archaeology, geography, and religion as an adjunct at the Meridian campus of Mississippi State University (1988–2016).
Amy A. Foley is visiting assistant professor at Providence College in Rhode Island. She writes about modern fiction, phenomenology, and embodiment as an extension of her previous manuscript under review, On the Threshold: Modernism, Doorways, and Building with the Body. She is now writing a manuscript on the philoso­phy of bodily motion in the novel.
Percival Everett is the author of more than thirty novels and story collections, including The Trees, Telephone, So Much Blue, Percival Everett by Virgil Russell, I Am Not Sidney Poitier, and Erasure. Everett has won the Dos Passos Prize, the PEN Center USA Award for Fiction, the PEN Oakland/Josephine Miles Literary Award, the Hurston/Wright Legacy Award for Fiction, the 2010 Believer Book Award, the Premio Gregor von Rezzori, a Creative Capital Award, and he is the recipient of a Guggenheim Fellowship. Everett is currently Distinguished Professor of English at University of Southern California. He lives in Los Angeles.
Susan Stanford Friedman is Hilldale Professor of English and Virginia Woolf Professor of English and Women's Studies at the University of Wisconsin. An international authority on modernism and in gender studies, she is author of Psyche Reborn: The Emergence of H. D. (1981), a Choice Outstanding Academic Books award winner; Penelope's Web: Gender, Modernity, H. D.'s Fiction (1990); Mappings: Feminism and the Cultural Geographies of Encounter, winner of the Perkins Prize for Best Book in Narrative Studies for 1998; Planetary Modernisms: Provocations on Modernity across Time (2015); and, most recently, Contemporary Revolutions: Turning back to the Future in Twenty-First-Century Literature and Art. She is also editor or coeditor of four books, and author of more than 80 articles across the fields of twentieth-century world literature and film.
Mason Golden is a scholar and writer with degrees from Columbia University and Goldsmiths College living in New York. In addition to writing on Faulkner for Modernism/modernity, he has published articles and essays in the Journal of Nietzsche Studies, the Monthly Review, and Raritan.
Phillip "Pip" Gordon is associate professor of English and Gay Studies coordinator at the University of Wisconsin-Platteville. His book Gay Faulkner: Uncovering a Homosexual Presence in Yoknapatawpha and Beyond was published by the University Press of Mississippi in 2020. He is currently working on a new monograph on trans studies approaches to William Faulkner.
Jolene Hubbs is associate professor of American Studies at the University of Alabama. Her forthcoming book, Class, Whiteness, and Southern Literature, explores how representations of poor white Southerners shape both middle-class American identity and major American literary genres across the long twentieth century. Her articles on Faulkner's fiction appear in LIT, Mississippi Quarterly, and Women's Studies.
Jennie Joiner is Professor of English at Keuka College in upstate New York, where she teaches introducto­ry literature courses that are grounded in studies of place and geography. She is a senior collaborating editor of the Digital Yoknapatawpha project, and her publications include articles on William Faulkner in the Faulkner Journal, Mississippi Quarterly, and the Flannery O'Connor Review.
Bernard T. Joy earned his PhD in December 2021. His thesis is titled The Lost Forest: William Faulkner's Old Verities. He is an educator, writer, and researcher living in Scotland. He has taught in the secondary sector since 2012 and has also held teaching positions at several institutions of further education, including the University of Glasgow.
Ethan King recently earned his PhD in English from Boston University, and he will be a lecturer in the Writing Program at Brandeis University in the fall. He has published on James Joyce, and he recently revised and expanded Charles Hannon's original article on William Faulkner for the Oxford Research Encyclopedia of Literature to reflect recent scholarship.
Peter Lurie is associate professor of English and Film Studies at the University of Richmond. He the author of Vision's Immanence: Faulkner, Film, and the Popular Imagination and American Obscurantism: History and the Visual in U.S. Literature and Film and the editor, with Ann J. Abadie, of Faulkner and Film: Faulkner and Yoknapatawpha, 2010.
Anne MacMaster is professor of English at Millsaps College, where she directs the program in Women's and Gender Studies. She has explored Faulkner's relations with other American writers in the Faulkner Journal, in Nathaniel Hawthorne Review, and most re­cently in a chapter of Richard Wright in Context, written with Anita DeRouen and titled "Realism and Modernism, Solipsism and Solidarity."
Sean McCann is professor of English at Wesleyan University and author of Gumshoe America: Hardboiled Crime Fiction and the Rise and Fall of New Deal Liberalism and A Pinnacle of Feeling: American Literature and Presidential Government. He has published es­says in Faulkner and Mystery, Faulkner and History, and Approaches to Teaching Faulkner's "As I Lay Dying."
Brian McDonald is coordinator of International Baccalaureate Programs and Advanced Studies in the School District of Lancaster, Pennsylvania. Brian completed his PhD at Pennsylvania State University in Language and Literacy and has been in education for 22 years, serving as an English teacher, department chair, building administrator, and central office administrator.
Ryanne McEvoy is a PhD candidate in English literature at Boston University. Her research investigates mod­ernist temporal fracture as it pertains to the body as text and the text as body. Her dissertation foregrounds Kristevan abjection and the negotiation of bodily bound­aries within the modernist novel.
Sascha Morrell is lecturer in Literary Studies at Monash University in Melbourne, Australia. She has published widely on American and modernist literatures while com­pleting a book on race, labor, and visual culture in the fiction of Herman Melville and William Faulkner, which emphasizes continuities between the formal innovations of antebellum and later modernist writers.
Julian Murphet is Jury Chair of English Language and Literature at Adelaide University. Murphet is author of Literature and Race in Los Angeles (2001), Bret Easton Ellis's "American Psycho" (2002), Narrative and Media (coauthored with Helen Fulton, Rosemary Huisman, and Anne Dunn, 2005), Multimedia Modernism: Literature and the Anglo-American Avant-Garde (2009), Todd Solondz (2019), and most pertinent to this summer's conference, Faulkner's Media Romance (2017). He is also editor or coeditor of ten scholarly collections, including Faulkner in the Media Ecology (2015), a volume of proceedings from an international conference of the same name that he organized at the University of New South Wales in 2011.
Julie Beth Napolin is associate professor of Digital Humanities at the New School. She is copresident of the William Faulkner Society and the author of The Fact of Resonance: Modernist Acoustics and Narrative Form, shortlisted for the 2021 Memory Studies Association First Book Award.
Erin Penner is associate professor of English at Asbury University. She is the author of Character and Mourning: Woolf, Faulkner, and the Novel Elegy of the First World War and has written on Faulkner for Studies in the Novel, African-American Review, and Mississippi Quarterly. She has been an editor for Digital Yoknapatawpha since 2012.
Stephen Railton is emeritus professor of English at the University of Virginia and creator of Digital Yoknapatawpha. In addition to publishing widely on American literature, he has been at the forefront of developing digital humanities initiatives since the mid-1990s. His web projects include Mark Twain in His Times; Uncle Tom's Cabin and American Culture; and two other Faulkner projects: Absalom, Absalom! An Electronic Chronology and Faulkner at Virginia: An Audio Archive.
Ben Robbins is a senior postdoctoral researcher at the University of Innsbruck and project leader of "Networked Narratives: Queer Exile Literature from 1900 to 1969," which is funded by the Austrian Science Fund. His work on Faulkner has appeared in the Journal of Screenwriting, Faulkner Journal, Genre, and Digitizing Faulkner. He has been an editor for Digital Yoknapatawpha since 2014.
Frances Rowbottom is a PhD candidate at the University of Edinburgh, focusing on William Faulkner's uses of myth. Frances has recently presented a paper at the Society for the Study of Southern Literature's conference in Atlanta, on the legacy of the Civil War in literature, and is anticipating a forthcoming book chapter publication on monuments and African American histories.
Kate Schnur is an adjunct assistant professor in the English department at CUNY Queens College. Her work has been published in the William Carlos Williams Review and in the edited volume The Female Fantastic: Gendering the Supernatural in the 1890s and 1920s.
Frédérique Spill is professor of American literature at the University of Picardy in Amiens, France. She is the author of L'Idiotie dans l'oeuvre de William Faulkner, soon to be published in English. Her publications mostly focus on Faulkner and Ron Rash. She recently coedited a special issue of the Faulkner Journal entitled "Faulkner in Amiens."
Matthew D. Sutton teaches English at Morehead State University, where he leads a major author course on Faulkner. His ongoing work on Faulkner has been pub­lished in Mississippi Quarterly, Journal of the Austrian Association for American Studies, and the edited vol­ume Faulkner and Hemingway.
Benoît Tadié is professor of American Studies at the Université Rennes 2. His research focuses on modern­ist magazines, the work of James Joyce, and American noir fiction. His books include L'Expérience moderniste anglo-américaine 1908–1922; James Joyce/Dubliners; Le polar américain, la modernité et le mal; and Front crimi­nel: une histoire du polar américain de 1919 à nos jours.
Theresa M. Towner is Ashbel Smith Professor of Literary Studies at the University of Texas at Dallas, the author of three books on Faulkner, and the editor of Digitizing Faulkner and the forthcoming Library of America edition of Faulkner's short fiction. She has been associate direc­tor of the Digital Yoknapatawpha project since 2012.
Candace Waid is professor of English and Comparative Literature at the University of California, Santa Barbara and author of Edith Wharton's Letters from the Underworld: Fictions of Women and Writing; The Signifying Eye: Seeing Faulkner's Art; the forthcoming Cannibal Capital: Hellman's Foxes "Getting Southern" (1939–1946) and a related monograph on "Lillian Hellman and Lewis Milestone's Other South: Mid-Century Ukraine."
Michael Wainwright is honorary research associate with the English department at Royal Holloway, University of London. His many monographs include Darwin and Faulkner's Novels: Evolution and Southern Fiction (2008), Faulkner's Gambit: Chess and Literature (2011), and The Rational Shakespeare: Peter Ramus, Edward de Vere, and the Question of Authorship (2018).
Jay Watson is Distinguished Professor of English and Howry Professor of Faulkner Studies at the University of Mississippi, where he serves as director of Faulkner and Yoknapatawpha.
Randall Wilhelm is associate professor of English at Anderson University. His recent essays on Faulkner have appeared in Faulkner and Slavery and in Mississippi Quarterly's special issue on "Faulkner and World War I." He is the editor of The Ron Rash Reader, Summoning the Dead: Essays on Ron Rash, and Conversations with Robert Morgan (2019).
Yuko Yamamoto is associate professor of American literature at Chiba University, Japan. Her articles have appeared in journals and books, including the Journal of Modern Periodical Studies and Faulkner and Hemingway. Her main research interest lies in the relations of literary modernism and popular culture, with particular empha­sis on periodicals and photography.
Michael Zeitlin teaches in the Department of English Language and Literatures at the University of British Columbia in Vancouver, Canada. He is the author of Faulkner, Aviation, and Modern War (2022). His first Faulkner and Yoknapatawpha conference was "Faulkner and Psychology" in 1991. He is the editor of the essay collection Misrecognition, Race, and the Real in Faulkner's Fiction (2004) and is former coeditor of the Faulkner Journal.
2022 Registration Information
The registration fee for in-person conference attendance is $150 for students and $300 for other participants. The fee includes admission to all program events, a buffet supper on Sunday, lunches on Monday and Tuesday, a picnic at Rowan Oak on Wednesday, conference session refreshments, and a closing reception on Thursday. The fee does not cover lodging, the optional guided tours of Faulkner Country, or meals, except for those aforementioned. 
For international scholars, instructors, students, and other Faulkner lovers subject to travel restrictions that prevent attendance in person, there is also a remote option that will allow you to attend conference sessions online via Zoom. Registration for the remote option is $50 for students and $100 for other participants and does not include social events.
Please note that conference registration for the in-person and remote options is now online. See instructions below.
Student Group Discount Package. A special package is available for five or more students who attend the conference in person as a group. The package includes a reduced conference registration fee of $100 for all student members; the designated group leader will receive a complimentary registration. Accommodations, travel, and meals (other than those covered by the conference registration fee) are the responsibility of the individual. To initiate a group registration, please contact Mary Leach at pdlljac@olemiss.edu or 662-915-7847.
A limited number of registration-fee waivers are available for graduate students who are not presenting work at the conference but are interested in attending. Contact Jay Watson, director, at jwatson@olemiss.edu for details.
Refunds. A refund will be made, less a $20 service charge per registration, for conference registrants who cancel their plans by July 7. No refunds will be made after that date. To initiate a cancellation request, please contact Mary Leach at pdlljac@olemiss.edu or 662-915-7847.
ACCOMMODATING SPECIAL NEEDS
If you require assistance relating to a disability or have special dietary requirements, please contact Mary Leach at pdlljac@olemiss.edu or 662-915-7847 at least 14 days prior to the conference.
LODGING
On-campus lodging is available at the Inn at Ole Miss, which offers special conference rates. Lodging in and near Oxford is available at hotels and other facilities. Conference participants should make their own reservations. Due to COVID restrictions, on-campus housing in University of Mississippi Contemporary Halls is not available.
TEACHING FAULKNER
All registrants, whether they are teachers or not, are welcome at these sessions.
REGISTRATION FOR FAULKNER AND YOKNAPATAWPHA IS NOW ONLINE
We hope that you will find the new online registration process to be easy and convenient! Annual commemorative posters and t-shirts can now be ordered online as well. Should you have any questions or encounter any issues during the registration process just give us a call and we will be glad to assist.
REGISTRATION INFORMATION
HELPFUL TIPS WHEN REGISTERING
Please have your credit card available when you begin the registration process. You will pay at the end of the registration process.
We only accept Visa and Mastercard credit card payments.
Only one participant can register at a time.
If you do not want to pay at this time, you can choose the "Bill Me Later" option and you will receive electronically a bill for your registration.
Commemorative posters and t-shirts can be ordered separately or as an add-on to your registration.
STUDENT GROUPS
A registration discount is offered for student groups of five or more attending the conference.
The student or student group leader should contact Mary Leach at 662-915-7847 or pdlljac@olemiss.edu to register.
Conference Schedule
View conference abstracts provided by program participants on the 2022 Conference Abstracts page.
SUNDAY, JULY 17
1:00 PM — RECEPTION
University Museums
2:30 PM — FAMILY, NATION, SIN: FAULKNER IN CONVERSATION WITH ALBERT WENDT (SAMOA) AND ELIF SHAFAK (TURKEY)
Susan Stanford Friedman
Nutt Auditorium
4:00 PM — DIVISIONS OF AESTHETIC LABOR; OR, WHEN IS FAULKNER NOT MODERN?
Julian Murphet
Nutt Auditorium
7:30 PM — EVENING PROGRAM
Nutt Auditorium
EUDORA WELTY AWARD WINNERS
Kathryn McKee, Center for the Study of Southern Culture
JOHN W. HUNT SCHOLAR
William Faulkner Society
THE ANN J. ABADIE LECTURE IN SOUTHERN STUDIES
Percival Everett
MONDAY, JULY 18
8:00 AM — PANEL
COMPARATIVE MODERNISMS
Nutt Auditorium
"WAS-NOT: IS: WAS" MODERNISM: FAULKNER, MELVILLE, AND HISTORY
Sascha Morrell
THREE MODERNIST PILLARS: STASIS AND FLUX IN FAULKNER, WOOLF, AND JOYCE
Anne MacMaster
"AROUND A MOTHER": WILLIAM FAULKNER, ANTONIN ARTAUD, JEAN-LOUIS BARRAULT
Benoît Tadié
9:30 AM — PANEL
RACE, REGION, AND MODERNISM
Nutt Auditorium
ROAD (RE)CONSTRUCTION: RACE AND SOUTHERN INFRASTRUCTURE IN FAULKNER'S YOKNAPATAWPHA
Ethan King
WILLIAM FAULKNER'S NARRATIVE TIME IN RELATION TO A REGIONAL SCALE OF MODERNISM
Frances Rowbottom
SEEING BLACKNESS: FAULKNER, MODERNISM, AND AFRICAN AMERICAN CINEMA'S LONGUE DURÉE
Peter Lurie
11:00 AM — PHILOSOPHICAL UNDERPINNINGS OF FAULKNER'S MODERNISM: EPISTEMOLOGY, ONTOLOGY, ETHICS
Nutt Auditorium
"SHE CANT EVEN BE MADE SO THAT IT COULD HAVE HAPPENED": GENDER AND EPISTEMOLOGY IN FAULKNER'S MODERNISM
Kate Schnur
"AND, BEING MYRIAD, ONE": FAULKNER'S ONTO-EPISTEMOLOGICAL IMPULSES AND HOW THEY CONTRIBUTE TO A FAULKNERIAN ETHICS
Bernard T. Joy
12:30 PM — COLLECTING FAULKNER
Seth Berner
Nutt Auditorium
2:00 PM — MECHANICAL AND HUMAN FACTORS IN FAULKNER AVIATION
Michael Zeitlin
Nutt Auditorium
3:30 PM — PANEL
COLD WAR MODERNISMS
Nutt Auditorium
BUCHWALD'S DISFIGURING OF FAULKNER'S MODERNISMS
Michael Wainwright
"THE REALLY GREAT WILL DIG": FAULKNER AMONG THE BEAT GENERATION
Matthew D. Sutton
FAULKNER ON SCREEN AT HOME AND ABROAD: THE FORD FOUNDATION, US INFORMATION AGENCY, AND A "PEOPLE'S MODERNISM"
Yuko Yamamoto
TUESDAY, JULY 19
8:00 AM — TEACHING FAULKNER I
James Carothers and Theresa M. Towner
Nutt Auditorium
9:30 AM — PANEL
FAULKNER'S APPRENTICESHIP IN MODERNISM
Nutt Auditorium
THE COLORS AND INFLUENCES OF WILLIAM FAULKNER'S THE MARIONETTES
Brooke P. Alexander
GHOST FLESH AND PHANTOM FRIENDSHIP: INTERBODY FAMILIES IN FAULKNER'S "THE LEG"
Ryanne McEvoy
11:00 AM — PANEL
NARRATIVE FORM, AESTHETIC TRANSITIONS, AND THE MODERNIST NOVEL IN THE AGE OF DIGITAL MODERNITY
Nutt Auditorium
THE DIGITAL TOPOGRAPHY OF POST-WAR DREAD IN FLAGS IN THE DUST
Erin Penner
"JEST ANOTHER SNOPES": THE MANSION, LATE MODERNIST AESTHETICS, AND THE PROLIFERATION OF CHARACTER
Ben Robbins
FAULKNER'S TYRANT: MEDIATORS OF INFORMATION FLOW IN YOKNAPATAWPHA COUNTY
John Michael Corrigan
12:30 PM — DIGITIZING FAULKNER: YOKNAPATAWPHA IN THE TWENTY-FIRST CENTURY
Johannes Burgers, Jennie Joiner, Stephen Railton, and Theresa M. Towner
Nutt Auditorium
2:00 PM — MODERNIST PHENOMONOLOGIES OF SEGREGATED SPACE: A HYPOTHESIS
Leigh Anne Duck
Nutt Auditorium
3:30 PM — PANEL
WORKING-CLASS MODERNISMS
Nutt Auditorium
"FREEDOM FROM WHAT? FROM WORK?": FAULKNER'S RURAL TAYLORISM AND THE ECONOMY OF BODILY MOTION
Amy Foley
"A COUNTRYSIDE WHICH WOULD HAVE REPUDIATED THE TERM CONSTITUENCY": SOVEREIGNTY, DEVELOPMENT, AND LAW IN THE HAMLET
Sean McCann
VARDAMAN'S CAPACITY: THE MODERNIST LANGUAGE OF THE POOR CHILD IN AS I LAY DYING
Maggie Morris Davis
WEDNESDAY, JULY 20
8:00 AM — TEACHING FAULKNER II
Jennie Joiner and Brian McDonald
Nutt Auditorium
9:30 AM — PANEL
AESTHETIC AND STYLISTIC DIMENSIONS OF FAULKNER'S MODERNISM
Nutt Auditorium
"INVENTING AND READING": FAULKNER'S JERUSALEM FROM POE TO VALÉRY
Mason Golden
MINOR SOUND: BLUES MODERNISM AND WAYWARDNESS IN "THAT EVENING SUN"
Julie Beth Napolin
FAULKNER'S MODERNIST WORLDS OF WORDS—A QUANTITATE STUDY
Michał Choiński
11:00 AM — PANEL
POPULAR MODERNISMS
Nutt Auditorium
EDITING FAULKNER: THE SATURDAY EVENING POST'S ABRIDGEMENT OF "HAND UPON THE WATERS"
John N. Duvall
POPULAR PETROMODERNISM: FAULKNER'S MULES ON THE TRACK
Jay Watson
NORTH TO MODERNITY: WILLIAM FAULKNER'S USE OF JACKSON, TENNESSEE
Phillip Gordon
12:30 PM — LIBRARY LECTURE
SHADOWS ON THE WALL: COLONEL W. C. FALKNER IN LEGEND
Jack D. Elliott Jr.
Faulkner Room, Archives and Special Collections, J. D. Williams Library
2:00 PM — PANEL
FAULKNER'S SENSATIONAL MODERNISMS
STICKY FAULKNER: AFFECTIVE BLOOM SPACE IN FAULKNER'S NOT-SO-STILL LIFES
Randall Wilhelm
"WE WOULD HEAR THE FIRE AND THE ROOF": BENJY COMPSON'S SENSATIONAL MODERNISM
Frédérique Spill
MODERNISMS' INTIMACIES: FROM TWINED SENSE TO SENSATE FORM IN THE CORPOREAL FAULKNER
Candace Waid
3:30 PM — PANEL
WILLIAM FAULKNER AND RURAL MODERNISM
Nutt Auditorium
THE ENDS OF THE COSMOPOLITAN: GO DOWN, MOSES AND FAULKNER'S AMERICANITY
Ben Child
"SO THIS IS MEMPHIS": THE URBAN SPACE IN FAULKNER'S RURAL MODERNISM
David A. Davis
FLEM'S FOOTPRINT: MAKING MEANING OF INFRASTRUCTURE IN THE TOWN
Ted Atkinson
THE FRUIT OF ADDIE BUNDREN'S FAMILY TREE: FAULKNER'S ANTI-EUGENIC MODERNISM
Jolene Hubbs
5:45 PM — WALK THROUGH BAILEY WOODS
Departs from parking lot behind University Museums
6:00 PM — PICNIC SUPPER
Rowan Oak
THURSDAY, JULY 21
9:00 AM — GUIDED TOURS OF NORTH MISSISSIPPI
(All tours depart from the parking lot at the Inn at Ole Miss)
OXFORD OVERVIEW
Jay Watson
NEW ALBANY AND RIPLEY
Jack Elliott
MISSISSIPPI DELTA
Scott Barretta
AFRICAN AMERICAN HERITAGE IN LAFAYETTE COUNTY
Rhondalyn Peairs
5:30 PM — CLOSING PARTY AND SIGNING
Off Square Books, 129 Courthouse Square, Oxford
Conference Details
COVID-19 SAFETY
The conference will operate under the University of Mississippi's Summer Planning Guidelines. All registrants are required to submit signed liability and medical waiv­ers to the Division of Outreach prior to attending conference sessions. For up-to-date information on COVID incidence and protocol, visit the University's COVID-19 dashboard.
SPONSORS
The Faulkner and Yoknapatawpha Conference at the University of Mississippi is sponsored by the Department of English and the Center for the Study of Southern Culture and coordinated by the Division of Outreach and Continuing Studies.
UNIVERSITY MUSEUM EXHIBITIONS
During the conference week the University Museum is hosting several temporary exhibits to complement its permanent collection. The conference takes place during the final week of The Paintings of John McCrady, which showcases the work of the noted southern regionalist who lived in Oxford, Mississippi, after his father was hired as a philosophy professor at the University. Also on display is Theora Hamblett: Holy Symbols, a group of lesser-known paintings by the Oxford artist inspired in part by dreams and visions she experienced over the last quarter-century of her career. A pair of additional exhibits reach beyond the local to feature work by national and international figures. Immagionazioni Fantastiche: The Ancient World of Piranesi gathers eighteenth-century etchings by the Italian architect, archaeologist, and artist Giovanni Battista Piranesi that depict fantastical Roman scenes, part of Piranesi's efforts not only to inspire awe but to preserve and restore classical ruins. The Other Sun, on display at both Rowan Oak and University Museum, brings together a range of works by contemporary American artist Jacob Hashimoto, from small intricate drawings to massive assemblages of kite-like discs, that playfully balance the dichotomies Hashimoto observes in landscapes and constructed virtual worlds. Museum hours are 10:00 AM to 5:00 PM, Tuesday through Saturday.
LIBRARY DISPLAYS
The Department of Archives and Special Collections is hosting two exhibits of interest during the conference week: A Sampler of Mississippi Authors, and Bring It on Home: An Exhibition of Sonny Boy Williamson II Materials from the William E. Donoghue Collection. The department is located on the third floor of the J. D. Williams Library and is open Monday through Friday, 8:00 AM to 5:00 PM. For more information, please contact Greg Johnson at gj1@olemiss.edu or 662-915-1595.
ANNUAL DISPLAY OF UNIVERSITY PRESS BOOKS
Books published by the University Press of Mississippi and select other members of the American Association of University Presses will be exhibited from Sunday, July 17, through Wednesday, July 20, in Music Building 148.
GIFTS
Gifts from the William Faulkner Society, as well as dona­tions in memory of John W. Hunt, Faulkner scholar and emeritus professor of literature at Lehigh University, have been made to support the conference and the John W. Hunt Scholar at this year's conference.
TRANSPORTATION
Those who plan to fly to the conference should book their flights to and from Memphis (Tennessee) International Airport (MEM). From Thursday, July 14, to Sunday, July 24, the Division of Outreach offers a shuttle service for conference participants who arrive at the Memphis International Airport (approximately 75 miles or 1 hour and 15 minutes drive). The cost of the shuttle is $135 round trip or $85 one way. Shuttle reservations must be made and paid for at least seven business days in advance.
If you would like to use the Division of Outreach shuttle service, please contact the Transportation Office, Division of Outreach and Continuing Education, via email at shuttle@olemiss.edu no later than July 7, to make your reservation. Your email must include the following information:
Subject line: Faulkner Conference
Name of passenger(s):
Flight date(s):
Flight number(s):
Flight arrival/departure time(s):
Passenger's cell phone #:
Passenger's email:
Location at which to be dropped off or picked up in Oxford:
Shuttles will be confirmed via email by Tuesday, July 12. Please meet your shuttle driver inside the airport at Baggage Claim, Area B escalator.
Memphis Shuttle Departures
*(Shuttle leaves the airport at these times.)
10:00 a.m.
2:00 p.m.
6:00 p.m.
Oxford Shuttle Departures
**(Shuttle leaves the Inn at Ole Miss at these times.)
8:00 a.m.
Noon
4:00 p.m.
*Schedule your flight arrival 30–40 minutes (or more) before these shuttle departure times from Memphis.
**Schedule your flight departure three hours (or more) after these shuttle departure times from Oxford.
***Should your arriving flight be delayed, please call the Transportation After Hours phone at 662-816-7165 and, if necessary, leave a voicemail message with your name and new arrival time. If you are unable to meet the next shuttle(s) you will be required either to stay over in Memphis and take the 10:00 a.m. shuttle the next day or to rent a car.
OPTIONAL TOURS: Thursday, July 21
In-person attendees will be given an opportunity to spend a day touring one of the areas listed below. All tours depart from Oxford at 9:00 a.m. and return around 3:30 p.m., except where noted. The tours are optional and are available for an additional fee of $120, which includes lunch.
Oxford/Lafayette County: This tour, led by Jay Watson, moves throughout Oxford/Jefferson and Lafayette/Yoknapatawpha County to visit a number of homes, buildings, and other sites associated with Faulkner's life and writings. Some walking is required.
New Albany and Ripley: The Falkners came to Oxford from Ripley and New Albany. The tour, led by Jack D. Elliott Jr., travels to the New Albany Museum and then on to the Ripley City Library, where participants will hear about the Ripley/Faulkner background. The tour will go to the Ripley cemetery, where Faulkner's great-grandfather, "the Old Colonel" and model for John Sartoris, is buried beside his impressive statue.
The Mississippi Delta: This tour, led by Scott Barretta, consists of a circuitous drive to Clarksdale by way of Charleston, Sumner, and Tutwiler. The tour focuses not only on the hunting camps of Faulkner's fiction but also on the music of the Delta, the Mississippi Blues. The Delta Blues Museum in Clarksdale is the centerpiece of our visit there. After lunch, we wind our way back to Oxford and usually return between 4:30 and 5:00 p.m.
African American Heritage in Lafayette County: Led by Rhondalyn Peairs, this tour visits significant sites in the African American histories of Oxford and Lafayette County.
FAULKNER POSTERS
Flat copies of Faulkner and Yoknapatawpha Conference posters with illustrations by Glennray Tutor (1989, 1990, 1993, 2017), John McCrady (2003, 2005), and William Faulkner (2007) and with photographs by Martin Dain (1996, 2009), Jack Cofield (1997, 2000), Bern Keating (1998, 2014), William Odiorne (1990), Budd Studios (2002), Phyllis Cerf (2008), Alfred Eris (2010), Henri Cartier-Bresson (2011), and from the Cofield Collection (2001, 2019), the Memphis Commercial Appeal (2006), and the Library of Congress (2018) are available for $5 each plus tax, shipping, and handling. To order posters, please email pdlljac@olemiss.edu with the quantity and poster(s) you are interested in purchasing.
SPECIAL THANKS
The conference organizers are grateful to all the indi­viduals and organizations that support Faulkner and Yoknapatawpha annually and offer special thanks this year to the College of Liberal Arts, the Center for the Study of Southern Culture, University of Mississippi Libraries, University Museums, Off Square Books, the City of Oxford, and the Oxford Convention and Visitors Bureau.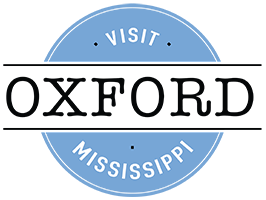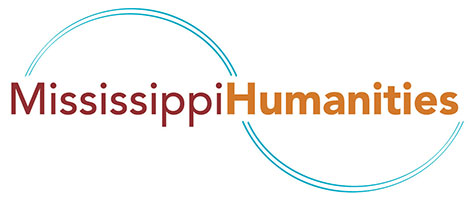 Contact Information
For more information concerning the conference, contact:
Division of Outreach and Continuing Education
Office of Professional Development and Lifelong Learning
P.O. Box 1848 • The University of Mississippi
University, MS 38677
Telephone 662-915-7283
Fax 662-915-5138