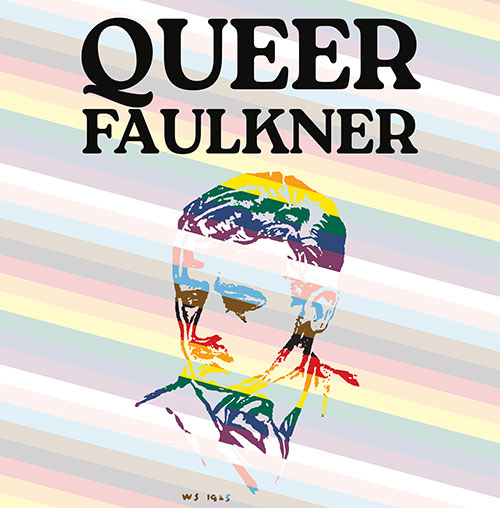 Queer Faulkner
The University of Mississippi
Faulkner and Yoknapatawpha Conference
A Hybrid Event
July 23-27, 2023
The University of Mississippi announces the 49th Annual Faulkner and Yoknapatawpha Conference. The conference is sponsored by the Department of English and the Center for the Study of Southern Culture and coordinated by the Division of Outreach and Continuing Education.
2023 Conference Program
Eve Kosofsky Sedgwick once pointed out the oddly superfluous, unintentionally revealing nature of the question, "Has there ever been a gay Shakespeare?" How might reframing this question around a queer Faulkner prove similarly generative and unnecessary? Taking its title, "Queer Faulkner," as both a description and an imperative, the forty-ninth annual Faulkner and Yoknapatawpha conference will explore the diverse expressions, meanings, and functions of non-normative sexuality, gender, desire, and affiliation in William Faulkner's life and work, tapping into the disciplinary ferment of queer and trans studies scholarship and the new paradigms and reading strategies it has established. In addition to four keynote lectures, the conference program will include panel presentations, guided daylong tours of North Mississippi and the Delta, and our ever-popular sessions on "Teaching Faulkner."
The conference will begin on Sunday, July 23, with a reception at the University Museum, after which the academic program of the conference will open with a keynote address and the program's first scholarly panel, followed by a buffet supper on the grounds of Faulkner's home, Rowan Oak. Over the next four days, a busy schedule of lectures and panels will also make room for teaching sessions, a picnic served at Rowan Oak, guided tours, and a closing party on Thursday afternoon, July 27. Throughout the conference, the University's J. D. Williams Library will display Faulkner books, manuscripts, photographs, and memorabilia. The University Press of Mississippi will exhibit Faulkner books and titles of related interest published by university presses throughout the United States, and Faulkner collector Seth Berner will give a brown bag lunch presentation on "Collecting Faulkner."
2023 Program Participants
Luke Anderson is a PhD student at Louisiana State University. He enjoys reading and interpreting fiction of the US South. His favorite authors are William Faulkner, Eudora Welty, and Carson McCullers. He was born in southern Minnesota. He grew up in southern Indiana. He holds degrees in teaching, English, and computer infor­mation systems.
Davina Bell is a third-year doctoral student and gradu­ate teaching assistant at the University of North Dakota English Department. She teaches first-year composition, writing for public audiences, and ecocriticism. She is currently studying for her composition exams, with a concentration on twentieth- and twenty-first-century African American literary theory and literature.
Seth Berner discovered in high school William Faulkner and that some books are more equal than others, and has been an obsessed book collector ever since. This is Seth's twenty-fourth Faulkner and Yoknapatawpha Conference, give or take a dozen, and his fourteenth speaking on collecting Faulkner. Seth's online book catalog can be found at Berner Books.
Michael Bibler is associate professor of English at Louisiana State University. Author of Cotton's Queer Relations: Same-Sex Intimacy and the Literature of the Southern Plantation, 1936–1968 (2009), and coeditor of Just below South: Intercultural Performance in the Caribbean and the US South (2007) and of the 2009 reprint of Arna Bontemps's novel Dusk to Dawn, he is cur­rently at work on a monograph, "Literally: The Queerness of Things Just as They Are."
Taylor Bryant obtained her MA in English studies in 2017 from Southeast Missouri State University, where she worked alongside Professor Christopher Rieger as a grad­uate assistant. Her graduate work focused on female pow­er dynamics and violence in the Game of Thrones series. She currently teaches American literature, Shakespeare, and dual-credit intro to composition courses at Cape Central High School in Cape Girardeau, Missouri.
Margarita Cepele is a second-year PhD student at Louisiana State University. She received her MA in English from Framingham State University in Massachusetts, where she focused primarily on twentieth-century American literature. Her areas of interest reside in the formation and exploration of American identity at the intersection of gender, sexuality, and immigration.
Solveig Dunkel's doctoral thesis is entitled "'The Old Meat After All': William Faulkner's Poetics of the Body," which she wrote under a joint supervision between the University of Picardy–Jules Verne (France) and Boston University. Her work has been published in the Faulkner Journal and the Mississippi Quarterly. Currently, she serves as a review editor for the Faulkner Journal while teaching at Paris Nanterre University (France).
John N. Duvall is Margaret Church Distinguished Professor of English at Purdue University. His new edi­tion of Faulkner's Knight's Gambit, which restores over four thousand words that editors cut, was published in 2022 by the University Press of Mississippi.
Amy A. Foley is visiting assistant professor at Providence College in Rhode Island. Some of her work can be found in the Faulkner Journal, Faulkner and Slavery, Modern Language Studies, Irish Studies Review, and MIT's archi­tecture journal, Thresholds. Foley's presentation is an extension of her manuscript under review, "Doorways to Being: Modernism and 'Lived' Architectures." Her current manuscript theorizes bodily motion in the novel.
Catherine Freis is professor emerita of Greek and Roman studies at Millsaps College. Coauthor of four books, Ancient Greek Alive, Memoriae Matris Sacrum, George Herbert's Latin Verse, and George Herbert's Latin Prose, she has published articles on innovative methods of teaching Latin and Greek and on Greek tragedy.
Michael Gleason, associate professor of Greek and Roman studies at Millsaps College, has been introducing freshmen to Homer, Virgil, and Beowulf since 1994. He has published on Alcuin (Mediaevalia), Bede (Classica et Mediaevalia), Welty (Eudora Welty Review), and, with Anne MacMaster, Homer and Joyce (Mosaic) and Faulkner and Hawthorne (Nathaniel Hawthorne Review).
Phillip "Pip" Gordon, a graduate of the University of Mississippi's PhD program in English, is associate pro­fessor of English and the gay studies coordinator at the University of Wisconsin, Platteville. Author of Gay Faulkner: Uncovering a Homosexual Presence in Yoknapatawpha and Beyond (2019), as well as a novella and two volumes of poetry, he is a representative-at-large for the William Faulkner Society and is currently working on a new monograph on trans-studies approaches to William Faulkner.
Jaime Harker is professor of English and director of the Sarah Isom Center for Women and Gender Studies at the University of Mississippi. She is author of America the Middlebrow: Women's Novels, Progressivism, and Middlebrow Authorship between the Wars (2007), Middlebrow Queer: Christopher Isherwood in America (2013), and The Lesbian South: Southern Feminists, the Women in Print Movement, and the Queer Literary Canon (2018) and editor or coeditor of multiple volumes, including Faulkner and Print Culture (2017). She also coedited a special issue of the Mississippi Quarterly on Oprah Winfrey's Summer of Faulkner.
Jonathan Hayes is a full-time instructor of English at Southeast Missouri State University. His research and teaching areas include transnational American litera­ture, film and literature studies, and composition. He has published book chapters on topics such as Mark Twain's novel The Gilded Age as well as Gabriel García Márquez's fiction and screenplay writing in comparison with the fiction of William Faulkner.
Lisa Hinrichsen is associate professor of English at the University of Arkansas. She is the author of Possessing the Past: Trauma, Imagination, and Memory in Post-Plantation Southern Literature (2015) and coeditor, with Gina Caison and Stephanie Rountree, of Small-Screen Souths: Region, Identity, and the Cultural Politics of Television (2017) and Remediating Region: New Media and the US South (2021).
Jay Ingrao is associate professor of instruction in literary studies at the University of Texas at Dallas. His recent con­ference talks concern Flannery O'Connor, Jesmyn Ward, and William Faulkner. Recent publications include an article on "Grit Lit" and Larry Brown in the Routledge Companion to the Literature of the US South.
Robert Jackson is James G. Watson Professor of English at the University of Tulsa. He studies the cultural history of the modern and contemporary United States. He has written books on regional literature and film history, and has edited journal issues of the Faulkner Journal, James Baldwin Review, and the Global South. At present, he is coediting a volume entitled Jim Crow Modernism and is completing work on a book about civil rights in 1963 that focuses on the relationship between James Baldwin and Robert F. Kennedy.
E. Patrick Johnson is dean of the School of Communication and Annenberg University Professor of Performance Studies and African American Studies at Northwestern University. His many books include Appropriating Blackness: Performance and the Politics of Authenticity (2003), Sweet Tea: Black Gay Men of the South—An Oral History (2008), Black. Queer. Southern. Women.: An Oral History (2018), Honeypot: Black Southern Women Who Love Women (2019), and Sweet Tea: A Play (2020), which offers a stage adaptation of the oral history work in his 2008 study.
Jennie Joiner is professor of English at Keuka College in upstate New York, where she teaches introductory literature courses that are grounded in studies of place and geography. She is a senior collaborating editor of the Digital Yoknapatawpha project, and her publications include articles on William Faulkner in the Faulkner Journal, Mississippi Quarterly, and the Flannery O'Connor Review.
Bernard T. Joy earned his PhD in 2021. He is an educator, writer, and researcher living in Scotland. He has written for the Faulkner Journal, the Faulkner and Yoknapatawpha book series, the Journal of American Studies, and is due to have work included in the European Journal of American Culture and in books under development at Palgrave Macmillan and at Lexington.
Pei-Wen Clio Kao is an assistant professor at the Department of Foreign Languages and Literature of National Ilan University, Taiwan (R.O.C.). Her research specialties lie in Conrad studies, Faulkner studies, and literary modernism. She has published articles on mod­ernist writers, Conrad, and Faulkner in international journals and in international book series.
Anne MacMaster is professor of English at Millsaps College. Her recent publications include (with Anita DeRouen) a chapter on modernism in Richard Wright in Context, and (with Michael Gleason) "The Pull of the Land: Indigenous Spirituality and Authorial Guilt in 'Roger Malvin's Burial' and Faulkner's 'The Bear,'" in Nathaniel Hawthorne Review.
Astrid Maes is a PhD candidate in American literature at the University of Picardy (France). She is a graduate of the ENS de Lyon and teaches English at the University of Angers (France). Her thesis focuses on love in William Faulkner's fiction. She has published articles on William Faulkner in Polysèmes and in the Faulkner Journal.
John Marszalek earned his MS in elementary education, his MS in counselor education, and his PhD in counselor education at Mississippi State University. Previously, he had received his BA from Canisius College in Buffalo, New York. He is faculty of the online clinical mental health counseling program at Southern New Hampshire University. He has been a counselor educator for more than twenty years and a counselor for more than twen­ty-five years, maintaining private practices in Fort Lauderdale, New Orleans, and Mississippi.
Brian McDonald is coordinator of secondary English language arts, social studies, and advanced programs in the School District of Lancaster, Pennsylvania. Brian completed his PhD at Pennsylvania State University in language and literacy and has been in education for twenty-two years, serving as an English teacher, depart­ment chair, building administrator, and central office administrator.
Kacee McKinney is a PhD candidate in English literature at the University of Mississippi. Her dissertation centers on multispecies relationships in twentieth-century southern literature. She is the Graduate Writing Center representative for gender studies at the University of Mississippi.
Nikki Magaziner Mills teaches southern American literature and British literature at St. Albans School, an all-boys Episcopal high school in Washington, DC. A lifelong Faulkner fan, she has been thrilled to have the opportunity to work with the Digital Yoknapatawpha project as a member of the NEH study. Introducing DY into her classroom has transformed her teaching.
Rebecca Nisetich is associate professor and director of the Honors Program at the University of Southern Maine. Her scholarship is based in race and ethnic studies and critical race theory, and her published work concerns representations of identity in American lit­erature, law, and culture. Her articles have appeared in African American Review, the Faulkner Journal, Studies in American Naturalism, and collections on William Faulkner and Kate Chopin.
Jenna Grace Sciuto is professor of English at the Massachusetts College of Liberal Arts. Her book Policing Intimacy: Law, Sexuality, and the Color Line in Twentieth-Century Hemispheric American Literature was published by the University Press of Mississippi in 2021. Her work has also appeared in journals and edited collections, including The New William Faulkner Studies (2022).
Ellen Shelton is director of Pre-College Programs and the University of Mississippi Writing Project. She provides leadership in academic outreach to K-12 schools through opportunities for both students and teachers. She also is the interim director of the University of Mississippi Writing Center, lecturer in the Department of Writing and Rhetoric, and a 2003 winner of the Milken National Educator Award.
Heidi Siegrist recently received her PhD in American literature from the University of Virginia. She is currently visiting assistant professor of English at the University of the South, where she teaches the literature of the queer South. Her monograph "All Y'all: Queering Southernness in US Fiction, 1980–Present" is forthcoming from the University of North Carolina Press.
Hayley Tate is an AP English teacher and concurrent credit instructor at Cave City High School Career and Collegiate Preparatory School in Arkansas. She facilitates learning for Cave City students and aids them in producing work that is appropriate for the collegiate level. She currently works in a grant funded project producing resources for educators who will utilize Digital Yoknapatawpha in the classroom.
Theresa M. Towner is Ashbel Smith Professor of Literary Studies at the University of Texas at Dallas, the author of three books on Faulkner, and the editor of Digitizing Faulkner and the forthcoming Library of America edition of Faulkner's short fiction. She has been associate director of the Digital Yoknapatawpha project since 2012.
Jay Watson is Distinguished Professor of English and Howry Professor of Faulkner Studies at the University of Mississippi, where he serves as director of Faulkner and Yoknapatawpha.
Renee Wehrle is a PhD student in the English language and literature program at University of Michigan, Ann Arbor, where she studies twentieth-century American literature and poetry with specific interests in affect and sociality. She is currently pursuing research related to terminal illness, precarious relationships, and attachment.
Laura Wilson completed her PhD from University of Mississippi in 2020, with a dissertation entitled "On Southern Soil: The Art and Ecology of Racial Uplift 1895–1950." She has published on Eudora Welty and on Zora Neale Hurston, and has upcoming pieces on the Unknown Soldier in Faulkner's A Fable and on African American motherhood in anti-lynching play.
2023 Conference Schedule
SUNDAY, JULY 23

1:00 p.m.
RECEPTION
University Museum
2:30 p.m.
KEYNOTE LECTURE
Genderqueer Faulkner: Paris, Gender Nonconformity, and Nonbinary Resistance in Mosquitoes and The Wild Palms
Jaime Harker
Nutt Auditorium
4:00 p.m.
PANEL
ALMOST MEN
Nutt Auditorium
THE SOMATECHNICS OF SANCTUARY
Lisa Hinrichsen
MEETING THE MAN: JAMES BALDWIN'S FAULKNER
Robert Jackson
GAVIN STEVENS, ACE DETECTIVE
John Duvall
7:30 p.m.
EVENING PROGRAM
Nutt Auditorium
EUDORA WELTY AWARD WINNERS
Rebecca Lauck Cleary, Center for the Study of Southern Culture
JOHN W. HUNT SCHOLAR
Laura Wilson, William Faulkner Society
THE ANN J. ABADIE LECTURE IN SOUTHERN STUDIES
E. Patrick Johnson

MONDAY, JULY 24

9:00 a.m.
TEACHING FAULKNER
Jennie Joiner and Brian McDonald
Nutt Auditorium
10:30 a.m.
PANEL
BREAKING THE BINARIES IN FAULKNER'S FICTION
Nutt Auditorium
QUEERING THE COUPLE IN THE HAMLET
Astrid Maes
FAULKNER'S AESTHETICS OF ASEXUALITY
Solveig Dunkel
"EINNOCENTE": THE EPISTEMOLOGICAL VIRGINITY OF "DIVORCE IN NAPLES"
Laura Wilson
12:00 p.m.
COLLECTING FAULKNER
Seth Berner
Nutt Auditorium
2:00 p.m.
KEYNOTE LECTURE
SLAPSTICK, S&M, AND CIVIL RIGHTS: FAULKNER'S QUEER VIOLENCE IN LIGHT IN AUGUST AND INTRUDER IN THE DUST
Michael Bibler
Nutt Auditorium
3:30 p.m.
PANEL
SPACES, ECOLOGIES, PEDAGOGIES
Nutt Auditorium
"ARCHITECTURE A LITTLE CURIOUS": FAULKNER'S BAROQUE AMBIVALENCE         
Amy A. Foley
"HEARING THE DARK LAND TALKING": TERMINAL ECO-INTIMACIES AND THEIR QUEER GRAMMARS IN WILLIAM FAULKNER'S AS I LAY DYING 
Renee Werhle
"HE LIKED MEN": OPENING NEW DOORS TO TEACHING "A ROSE FOR EMILY" BASED IN QUEER PEDAGOGY
Jay Ingrao

TUESDAY, JULY 25

8:30 a.m.
WORKSHOP
QUEERING FAULKNER: TEACHING FAULKNER IN AN AGE OF CENSORSHIP
Jaime Harker and Ellen Shelton, chairs
LOCATION TBD
Book banning has become the norm in today's cul­ture, leading to an unprecedented removal of books from libraries and classrooms. Books that high school teachers have been teaching for years are coming under fire, and yet we know that these texts help students explore identity and develop empathy. How, in the face of an ever-restricting high school canon, can we continue to explore issues of vital interest to our students, including racial, gender, and sexual identity?
In addition to resisting these restrictions on our libraries, we want to suggest that how we read is as important as what we read. Teaching queer reading strategies of canonical texts is an effective way to resist and continue to teach our students about diversity and critical thinking.
We invite you to a workshop focusing on Faulkner's short stories that are often taught in high school. In a discussion led by four veteran teachers, we will explore how to navigate classroom instruction and create writing assignments that might be created around these stories. Led by Jaime Harker, Ellen Shelton, and other veteran teachers, the workshop will explore how the elements in each story could be used to help students explore identity, conformity, and sexual and gender variance.
Participants will be emailed the short stories be­fore the conference; in the workshop, we will engage in facilitated conversation and end with a general discussion about teaching strategies and resisting censorship.
Note: Seats in this workshop must be reserved by Monday, July 10. To register use our Google form or contact Jaime Harker at jlharker@olemiss.edu.
10:30 a.m.
PANEL
COMPARATIVELY QUEER: SEXUALITY, IDENTITY, AND EXPERIMENTATION IN FAULKNER AND BEYOND
Nutt Auditorium
UGLY SPIRITS, UGLY DESIRES, AND THE "ROUTINE": QUEERNESS, THE UNSIGHTLY, AND VISIBILITY IN FAULKNER'S SANCTUARY AND BURROUGHS' QUEER
Bernard T. Joy
CONTAINING SUBVERSIVE GENDER IDENTITIES IN HALLDOR LAXNESS'S SALKA VALKA AND FAULKNER'S SANCTUARY
Jenna Grace Sciuto
GENDER AND SEXUALITY IN WILLIAM FAULKNER'S LIGHT IN AUGUST AND LOUISE ERDRICH'S THE LAST REPORT ON THE MIRACLES AT LITTLE NO HORSE
Rebecca Nisetich
12:00 p.m.
LUNCH ON YOUR OWN
2:00 p.m.
KEYNOTE LECTURE
BLACK TRANS LIVES AND THE LIMITS OF QUEER FAULKNER
Phillip Gordon
Nutt Auditorium
3:30 p.m.
PANEL
BEYOND THE CLOSET
Nutt Auditorium
WHY ARE YOU GAY? QUEER ETIOLOGIES IN WILLIAM FAULKNER'S THE SOUND AND THE FURY
Margarita Cepele
SACRIFICING QUEER ORIENTATIONS IN WILLIAM FAULKNER'S AS I LAY DYING
Kacee McKinney
THE CONTINGENT FAMILY: QUEERNESS WITHOUT TRUTH IN ABSALOM, ABSALOM!
Luke Anderson

WEDNESDAY, JULY 26

9:00 a.m.
TEACHING AND LEARNING FAULKNER IN THE DIGITAL AGE
Haley Albert-Tate, Taylor Bryant, Jonathan Hayes, Nikki Magaziner Mills, Theresa Towner (chair)
Nutt Auditorium
10:30 a.m.
PANEL
EROS AND INTERTEXTUALITY: QUEERING FAULKNER'S ENGAGEMENT WITH ANTIQUITY
Nutt Auditorium
FAULKNER AND THE CLASSICS: A VICARIOUS EDUCATION
Michael Gleason
PLATO'S SYMPOSIUM: AN EXPLORATION OF EROS IN ATHENIAN LIFE
Catherine Freis
EROS AND INTERTEXT: PLATO'S SYMPOSIUM AND ABSALOM, ABSALOM!
Anne MacMaster
12:30 p.m.
LIBRARY LECTURE
SAME-SEX COUPLES IN MISSISSIPPI: THE PAST AND TODAY
John Marszalek
Faulkner Room, Archives and Special Collections, J.D. Williams Library
2:00 p.m.
KEYNOTE LECTURE
SWAMPS, MONSTERS, AND POSTAGE STAMPS: QUEER SOUTHERN SPATIALITY AFTER FAULKNER
Heidi Siegrist
3:30 p.m.
PANEL
QUEER(ING) GOTHIC
Nutt Auditorium
QUEERING BLACK BLOOD
Davina Bell
GOTHIC QUEER (RE)VISION OF FAULKNER: LOVE, MADNESS, AND NARCISSISM IN LIGHT IN AUGUST
Pei-Wen Clio Kao
5:45 p.m.
WALK THROUGH BAILEY WOODS
Departs from parking lot behind University Museums
6:00 p.m.
PICNIC SUPPER
Rowan Oak

THURSDAY, JULY 27

9:00 a.m.
GUIDED TOURS OF NORTH MISSISSIPPI
(All tours depart from the parking lot at the Inn at Ole Miss)
OXFORD OVERVIEW
Jay Watson
NEW ALBANY AND RIPLEY
Jack Elliott
MISSISSIPPI DELTA
Scott Barretta
AFRICAN AMERICAN HERITAGE IN LAFAYETTE COUNTY
Rhondalyn Peairs
5:30 p.m.
CLOSING PARTY AND SIGNING
Off Square Books, 129 Courthouse Square, Oxford
2023 Registration Information
The registration fee for in-person conference attendance is $150 for students and $300 for other participants. The fee includes admission to all program events, a buffet supper on Sunday, lunch on Monday, a picnic at Rowan Oak on Wednesday, conference session refreshments, and a closing reception on Thursday. The fee does not cover lodging, the optional guided tours of Faulkner Country, or meals, except for those aforementioned.
For international scholars, instructors, students, and other Faulkner lovers subject to travel restrictions that prevent attendance in person, there is also a remote option that will allow you to attend conference sessions online via Zoom. Registration for the remote option is $50 for students and $100 for other participants and does not include social events.
Please note that conference registration for the in-person and remote options is now online. See instructions below.
Student Group Discount Package: A special package is available for five or more students who attend the conference in person as a group. The package includes a reduced conference registration fee of $100 for all student members; the designated group leader will receive a complimentary registration. Accommodations, travel, and meals (other than those covered by the conference registration fee) are the responsibility of the individual. To initiate a group registration, please contact Mary Leach at pdlljac@olemiss.edu or 662-915-7847.
A limited number of registration-fee waivers are available for graduate students who are not presenting work at the conference but are interested in attending. Contact Jay Watson, director, at jwatson@olemiss.edu for details.
Refunds. A refund will be made, less a $20 service charge per registration, for conference registrants who cancel their plans by July 7. No refunds will be made after that date. To initiate a cancellation request, please contact Mary Leach at pdlljac@olemiss.edu or 662-915-7847.
ACCOMMODATING SPECIAL NEEDS
If you require assistance relating to a disability or have special dietary requirements, please contact Mary Leach at pdlljac@olemiss.edu or 662-915-7847 at least 14 days prior to the conference.
LODGING
On-campus lodging is available at the Inn at Ole Miss, which offers special conference rates. Lodging in and near Oxford is available at hotels and other facilities. Conference participants should make their own reservations. Please note that on-campus housing in University of Mississippi Contemporary Halls will not be available for the conference dates.
TEACHING FAULKNER
All registrants, whether they are teachers or not, are welcome at these sessions.
REGISTRATION FOR FAULKNER AND YOKNAPATAWPHA IS NOW ONLINE
We hope that you will find the new online registration process to be easy and convenient! Annual commemorative posters and t-shirts can now be ordered online as well. Should you have any questions or encounter any issues during the registration process just give us a call and we will be glad to assist.
REGISTRATION INFORMATION
HELPFUL TIPS WHEN REGISTERING
Please have your credit card available when you begin the registration process. You will pay at the end of the registration process.
We only accept Visa and Mastercard credit card payments.
Only one participant can register at a time.
If you do not want to pay at this time, you can choose the "Bill Me Later" option and you will receive electronically a bill for your registration. Payment must be made prior to the start date of the conference. 
Commemorative posters and t-shirts can be ordered separately or as an add-on to your registration.
STUDENT GROUPS
A registration discount is offered for student groups of five or more attending the conference.
The student or student group leader should contact Mary Leach at 662-915-7847 or pdlljac@olemiss.edu to register.
Conference Schedule
Walk-up onsite conference registration opens Sunday, July 23, 2023, at 12:00 p.m. at Nutt Auditorium. A reception at the University Museum is set for 1:00 p.m., followed by the first keynote speaker at 2:30 p.m. The conference will conclude with the closing party scheduled for the afternoon of Thursday, July 27. A detailed program will be provided with the conference registration packet.
Conference Details
SPONSORS
The Faulkner and Yoknapatawpha Conference at the University of Mississippi is sponsored by the Department of English and the Center for the Study of Southern Culture and coordinated by the Division of Outreach and Continuing Education.
UNIVERSITY MUSEUM EXHIBITIONS
During the conference week the University Museum is hosting several temporary exhibits to complement its permanent collection. Recent Acquisitions, 2012-Present celebrates recent donations and purchases to the muse­um over the past decade and features work by acclaimed artists such as Dean Mitchell, Purvis Young, Hale Aspacio Woodruff, Maude Schuyler Clay, Katja Oxman, Georgia Speller, William Dunlap, and others. Friends of Theora examines the external influence of other artists who inspired Oxford's renowned Theora Hamblett as an emerging artist, student, and observational painter searching for her own artistic voice. Many of the works on view were from her personal collection, collected through art exchanges with artists whom she befriend­ed. Blurred Lines features works from the W. Forrest and Joan Stevens Collection, including Andy Warhol, Pablo Picasso, and Alexander Calder — artists who disrupted the status quo in art, from modernism into the postmod­ernism movement. Museum hours are 10:00 a.m. to 5:00 p.m., Tuesday through Saturday. For more information, see the museum's website.
LIBRARY DISPLAYS
The department of Archives and Special Collections has two exhibits of interest during the conference week: The Southern Plate: An Archival Exhibition on Food and Paving the Path: James Meredith and the Integration of the University of Mississippi. It also has displays on queer Mississippi and on Hubert Creekmore that may be of interest to conferencego­ers. The department is located on the third floor of the J.D. Williams Library and is open Monday through Friday, 8:00 a.m. to 5:00 p.m. For more information, please contact Greg Johnson at gj1@olemiss.edu or 662-915-1595.
ANNUAL DISPLAY OF UNIVERSITY PRESS BOOKS
Books published by the University Press of Mississippi and select other members of the American Association of University Presses will be exhibited from Sunday, July 23 through Wednesday, July 26, in Music Building 148.
GIFTS
Gifts from the William Faulkner Society, as well as dona­tions in memory of John W. Hunt, Faulkner scholar and emeritus professor of literature at Lehigh University, have been made to support the conference and the John W. Hunt Scholars at this year's conference.
TRANSPORTATION
Those who plan to fly to the conference should book their flights to and from Memphis (Tennessee) International Airport (MEM). From Thursday, July 20, to Sunday, July 30, the Division of Outreach offers a shuttle service for conference participants who arrive at the Memphis International Airport (approximately 75 miles or 1 hour and 15 minute drive). The cost of the shuttle is $145 round trip or $95 one way. Shuttle reservations must be made and paid for at least seven business days in advance.
If you would like to use the Division of Outreach shuttle service, please contact the Transportation Office, Division of Outreach and Continuing Education, via email at shuttle@olemiss.edu no later than July 10, 2023, to make your reservation. Your email must include the following information:
Subject line: Faulkner Conference
Name of passenger(s):
Flight date(s):
Flight number(s):
Flight arrival/departure time(s):
Passenger's cell phone #:
Passenger's email:
Location at which to be dropped off or picked up in Oxford:
Shuttles will be confirmed via email by Tuesday, July 18. Please meet your shuttle driver inside the airport at Baggage Claim, Area B escalator.
Memphis Shuttle Departures
*(Shuttle leaves the airport at these times.)
10:00 a.m.
2:00 p.m.
6:00 p.m.
Oxford Shuttle Departures
**(Shuttle leaves the Inn at Ole Miss at these times.)
8:00 a.m.
Noon
4:00 p.m.
*Schedule your flight arrival 30–40 minutes (or more) before these shuttle departure times from Memphis.
**Schedule your flight departure three hours (or more) after these shuttle departure times from Oxford.
***Should your arriving flight be delayed, please call the Transportation After Hours phone at 662-816-7165 and, if necessary, leave a voicemail message with your name and new arrival time. If you are unable to meet the next shuttle(s) you will be required either to stay over in Memphis and take the 10:00 a.m. shuttle the next day or to rent a car.
OPTIONAL TOURS: Thursday, July 27
In-person attendees will be given an opportunity to spend a day touring one of the areas listed below. All tours depart from Oxford at 9:00 a.m. and return around 3:30 p.m., except where noted. The tours are optional and are available for an additional fee of $120, which includes lunch.
Oxford/Lafayette County: This tour, led by Jay Watson, moves throughout Oxford/Jefferson and Lafayette/Yoknapatawpha County to visit a number of homes, buildings, and other sites associated with Faulkner's life and writings. Some walking is required.
New Albany and Ripley: The Falkners came to Oxford from Ripley and New Albany. The tour, led by Jack D. Elliott Jr., travels to the New Albany Museum and then on to the Ripley City Library, where participants will hear about the Ripley/Faulkner background. The tour will go to the Ripley cemetery, where Faulkner's great-grandfather, "the Old Colonel" and model for John Sartoris, is buried beside his impressive statue.
The Mississippi Delta: This tour, led by Scott Barretta, consists of a circuitous drive to Clarksdale by way of Charleston, Sumner, and Tutwiler. The tour focuses not only on the hunting camps of Faulkner's fiction but also on the music of the Delta, the Mississippi Blues. The Delta Blues Museum in Clarksdale is the centerpiece of our visit there. After lunch, we wind our way back to Oxford and usually return between 4:30 and 5:00 p.m.
African American Heritage in Lafayette County: Led by Rhondalyn Peairs, this tour visits significant sites in the African American histories of Oxford and Lafayette County.
FAULKNER POSTERS
Flat copies of Faulkner and Yoknapatawpha Conference posters with illustrations by Glennray Tutor (1989, 1990, 1993, 2017), John McCrady (2003, 2005), and William Faulkner (2007) and with photographs by Martin Dain (1996, 2009), Jack Cofield (1997, 2000), Bern Keating (1998, 2014), William Odiorne (1990), Budd Studios (2002), Phyllis Cerf (2008), Alfred Eris (2010), Henri Cartier-Bresson (2011), and from the Cofield Collection (2001, 2019), the Memphis Commercial Appeal (2006), and the Library of Congress (2018) are available for $5 each plus tax, shipping, and handling. To order posters, please email pdlljac@olemiss.edu with the quantity and poster(s) you are interested in purchasing.
SPECIAL THANKS
The 2023 Faulkner and Yoknapatawpha Conference poster is produced through the generous support of the City of Oxford and the Oxford Partnerships Program of Visit Oxford.
The conference organizers are grateful to all the individuals and organizations that support Faulkner and Yoknapatawpha annually, and they offer special thanks this year to the College of Liberal Arts, the Department of English, the Center for the Study of Southern Culture, University of Mississippi Libraries, University Museums, the City of Oxford, and the Oxford Convention and Visitors Bureau.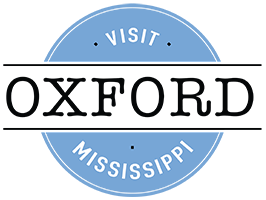 Contact Information
For more information concerning the conference, contact:
Division of Outreach and Continuing Education
Office of Professional Development and Lifelong Learning
P.O. Box 1848 • The University of Mississippi
University, MS 38677
Telephone 662-915-7283
Fax 662-915-5138