NASA Mississippi Space Grant Consortium
Annual Teachers Conference for Math and Science Teachers.
January 8-9, 2021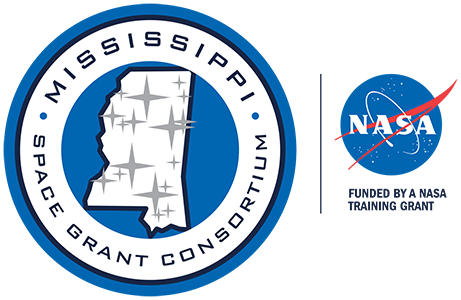 Description & Purpose
NASA Mississippi Space Grant Consortium in partnership with the Center for Mathematics and Science Education (CMSE) is hosting the NASA Space Grant Consortium's Annual Teachers Conference. This conference is designed for math and science middle school teachers by providing them with opportunities to engage in mathematics and science professional development sessions and activities. This conference is facilitated by NASA Aerospace Education Specialists and Center for Mathematics and Science Education.
Dates & Location
Friday, January 8, 2021: 3:30 pm – 5:00 pm
Saturday, January 9, 2021: 8:15 am – 12:45 pm
The 2021 NASA Mississippi Space Grant Annual Teachers Conference will be held VIRTUALLY originating from the University of Mississippi – Oxford campus.  The conference link(s) will be sent to you via email on or before January 6, 2021. 
Requirements to Attend
All teachers must have the ability and equipment with the required internet speed to attend all of the online live sessions with minimum interruptions.
All teachers must be willing and able to engage students in a short STEM activity (adapted for both face-to-face and virtual learning) before January 8, 2021. This activity will be provided to each registered teacher.
It is expected that all teachers be actively engaged in this professional learning opportunity in order to gain knowledge and new activities for their classrooms.
Teacher Eligibility
All Mississippi middle school math and science teachers are invited to attend the 2021 conference. Teachers who are seeking to attend the conference for the first time will have priority. Conference attendees will be eligible for a $75.00 stipend, as well as 0.8 Continuing Education Units (CEUs) for completion of the entire conference. Teachers who do not participate in all sessions will not be issued a completion certificate or be eligible for the 0.8 CEUs or the stipend payment.
Registration
Deadline for Registration
The deadline for registration will be December 7, 2020.
Registration Fee
The $50 registration fee is REQUIRED in order to hold your spot. After you have attended the entire conference, you will be refunded this amount in addition to receiving a stipend payment in the amount of $75.
Payment
PAYMENTS can be made with Visa or MasterCard or check payable to: University of Mississippi.
If you need to send a Purchase Order, please send it via regular mail, email or fax:
The University of Mississippi
Outreach and Continuing Education (G. Stroupe)
Office of Professional Development and Lifelong Learning
PO Box 1848
University, MS 38677-1848
Fax: 662-915-5138
Email: pdlljac@olemiss.edu
Number of Conference Seats
There are 80 conference seats available for 2021. All seats will be filled on a first come first serve basis, however priority will be given to first time conference attendees. Teachers are encouraged to register early.
Conference coordination and registration contact: Please contact Griffin Stroupe, Coordinator of Professional Development Programs, at 662-915-3121 or email:grstroup@olemiss.edu.
Conference Directors
Dr. Nathan E. Murray, NASA Mississippi Space Grant Consortium
Dr. Alice Steimle, Center for Mathematics and Science Education

Special Accommodations
Please call Griffin Stroupe at 662-915-3121 or email him at grstroup@olemiss.edu, if you need special accommodations such as sight, hearing, or access at this conference.