UM Social Work Instructor Receives Paragon Online Teaching Award
Kristy Durkin will present at upcoming 'Toolbox Talks" event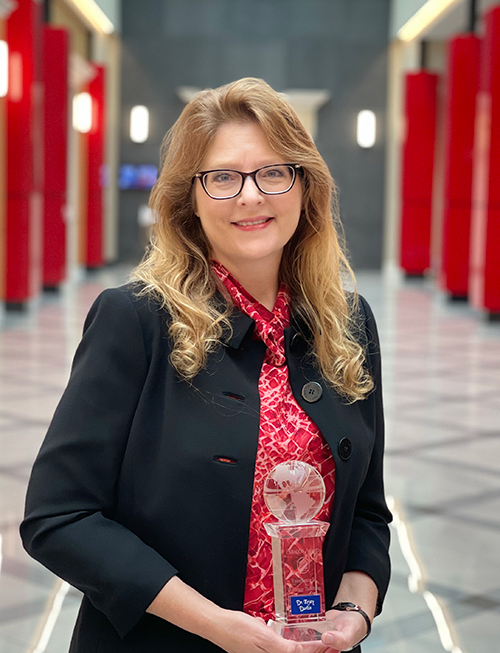 OXFORD, Miss. – After COVID-19 hit in early 2020, connecting with students became more challenging for instructors as universities shifted to online learning. Since then, many teachers have implemented creative ways to enhance student learning and engagement through course design, technology and instructional methods.
Last semester, one University of Mississippi instructor's efforts led to her being recognized as the university's top online instructor.
Kristy Durkin, instructor in social work, is the 2022 recipient of the annual Paragon Award for Excellence in Distance Teaching, awarded by Ole Miss Online in the UM Office of Academic Outreach.
"I thought I was making a difference," Durkin said. "I hoped I was making a difference. Being nominated for the Paragon Award gave me a huge sense of validation.
"This has served as a reminder of how much students dearly appreciate my validation of their efforts."
Ninety-one nominations were submitted, and Durkin was selected from 21 nominees who accepted their nominations. She will share her innovative teaching ideas and resources at the annual "Toolbox Talks" virtual event at 10 a.m. March 22.
Instructors such as Durkin have become more aware of students' learning needs, abilities, access and inclusion since the pandemic, said Wan Petchroon, instructional design and training specialist in academic outreach.
"Dr. Durkin is a warm and caring person, and it shows through her online course," Petchroon said. "She has the ability to engage and connect with students using simple asynchronous tools such as discussion boards and designing them to be very interactive and experiential."
Petchroon is referring to Durkin's course, SW 327: Compassion Fatigue: Strategies, which she was inspired to create during the pandemic as a way to educate and equip all students pursuing helping professions. The course was approved by the School of Applied Sciences in spring 2021 and launched in spring 2022.
"Compassion fatigue is a condition that results when helping professionals such as nurses, first responders, teachers, mental health professionals, police officers, etc., have been exposed to primary and/or secondary trauma along with undue amounts of stress as a result of their work," Durkin said.
"I had foundational training in compassion fatigue while working on my Ph.D. at the University of Alabama, and what is not well known is that compassion fatigue is not only treatable but also preventable. By learning stress-reducing coping strategies as well as how to recognize symptoms and stress triggers, one can actually "immunize" themselves against developing this condition."
Durkin guides her students on this journey of learning and self-discovery by following a four-wave learning strategy that includes:
providing students with the latest research on compassion fatigue
encouraging students to review their weekly module by having a short quiz
designing discussion boards to include activities that students must write about
three experiential assignments such as interviewing and teaching someone about compassion fatigue, identifying how they overcame a traumatic experience and creating a self-care tool kit
"Despite all the technology and design elements I have incorporated, it is the building of mentoring relationships that makes my courses successful," Durkin said. "I have enjoyed hearing the stories of my students as I travel on an academic journey with them for a semester.
"In a world of Twitter and text messaging, good old-fashioned feedback has been the best way to motivate and cultivate learning in an online environment. Carving out my own niche in the online teaching community has become the pinnacle of my academic teaching career."
Durkin's teaching philosophy stems from her experience growing up with dyslexia. She recalls her own challenges in the classroom and is intentional about meeting her students where they are and creating coursework options that cater to different learning styles.
She credits her ability to see things from different angles as a "gift" of having dyslexia and wants to encourage others to own their different learning abilities.
"My teaching approach is to be genuine and honest about my social work practice experiences – not only discussing what I've done successfully, but also what could have been done better," Durkin said. "I try to inspire and encourage students by frequently pointing out the many contributions they bring to the profession through their experiences, observations, perspectives and creative ideas."
While receiving this award is a great honor for Durkin, the course feedback she received from students has been equally rewarding.
"I have really enjoyed this class," said Kimberly Simmons, a senior social work student from Corinth. "I learn better by doing things hands-on like we did in the discussion boards this semester. Reading how to do something and then actually trying it is two separate things for me.
"I am going to walk away with so many helpful techniques that I will use in the future from this class."
Durkin understands that technology for online learning is constantly changing, which is why she continues to expand her knowledge by attending training offered by Academic Outreach. She encourages any professor looking to create or teach an online course to connect with Ole Miss Online.
"Dr. Durkin is a firm believer in mentoring her students beyond the classroom," said Mary Lea McMillan, assistant director of academic outreach. "That is one of the many factors that led her to create such excellent online courses.
"It's not just the design and technology – the special ingredient is Dr. Durkin."
This year's "Toolbox Talks" will have presentations ranging from assessment alternatives to AI in the classroom to a Blackboard tool that helps improve the accessibility of course files and materials. Durkin's presentation will focus on how to create attractive courses that students want to take.
To register for the "Toolbox Talks" event and hear more about online instruction at Ole Miss, click here.