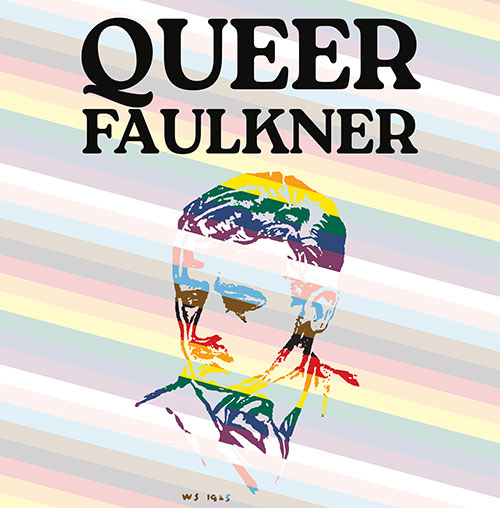 Queer Faulkner
The University of Mississippi
Faulkner and Yoknapatawpha Conference
July 23-27, 2023
The University of Mississippi announces the 49th Annual Faulkner and Yoknapatawpha Conference. The conference is sponsored by the Department of English and the Center for the Study of Southern Culture and coordinated by the Division of Outreach and Continuing Education.
2023 Conference Program
Eve Kosofsky Sedgwick once pointed out the oddly superfluous, unintentionally revealing nature of the question, "Has there ever been a gay Shakespeare?" How might reframing this question around a queer Faulkner prove similarly generative and unnecessary? Taking its title, "Queer Faulkner," as both a description and an imperative, the forty-ninth annual Faulkner and Yoknapatawpha conference will explore the diverse expressions, meanings, and functions of non-normative sexuality, gender, desire, and affiliation in William Faulkner's life and work, tapping into the disciplinary ferment of queer and trans studies scholarship and the new paradigms and reading strategies it has established. In addition to four keynote lectures, the conference program will include panel presentations, guided daylong tours of North Mississippi and the Delta, and our ever-popular sessions on "Teaching Faulkner."
The conference will begin on Sunday, July 23, with a reception at the University Museum, after which the academic program of the conference will open with a keynote address and the program's first scholarly panel, followed by a buffet supper on the grounds of Faulkner's home, Rowan Oak. Over the next four days, a busy schedule of lectures and panels will also make room for teaching sessions, a picnic served at Rowan Oak, guided tours, and a closing party on Thursday afternoon, July 27. Throughout the conference, the University's J. D. Williams Library will display Faulkner books, manuscripts, photographs, and memorabilia. The University Press of Mississippi will exhibit Faulkner books and titles of related interest published by university presses throughout the United States, and Faulkner collector Seth Berner will give a brown bag lunch presentation on "Collecting Faulkner."
2023 Program Participants
Michael Bibler is Robert Penn Warren Distinguished Associate Professor of English at Louisiana State University. Author of Cotton's Queer Relations: Same-Sex Intimacy and the Literature of the Southern Plantation, 1936–1968 (2009), and coeditor of Just below South: Intercultural Performance in the Caribbean and the US South (2007) and of the 2009 reprint of Arna Bontemps's novel Dusk to Dawn, he is currently at work on a monograph, "Literally: The Queerness of Things Just as They Are."
Phillip Gordon, a graduate of the University of Mississippi's PhD program in English, is associate professor of English and gay studies coordinator at the University of Wisconsin, Platteville. Author of Gay Faulkner: Uncovering a Homosexual Presence in Yoknapatawpha and Beyond (2019), as well as a novella and two volumes of poetry, he is currently a representative-at-large for the William Faulkner Society.
Jaime Harker is professor of English and director of the Sarah Isom Center for Women and Gender Studies at the University of Mississippi. She is author of America the Middlebrow: Women's Novels, Progressivism, and Middlebrow Authorship between the Wars (2007), Middlebrow Queer: Christopher Isherwood in America (2013), and The Lesbian South: Southern Feminists, the Women in Print Movement, and the Queer Literary Canon (2018) and editor or coeditor of multiple volumes, including Faulkner and Print Culture (2017). She also coedited a special issue of the Mississippi Quarterly on Oprah Winfrey's Summer of Faulkner.
LaMonda Horton-Stallings is professor and chair of African American studies at Georgetown University. She is author of Mutha Is Half a Word: Intersections of Folklore, Vernacular, Myth, and Queerness in Black Female Culture (2007), Funk the Erotic: Transaesethetics and Black Sexual Cultures (2015), A Dirty South Manifesto (2019), and The Afterlives of Kathleen Collins: A Black Woman Filmmaker's Search for New Life (2020). She also coedited Word Hustle: Critical Essays and Reflections on the Work of Donald Gaines (2011) and Black Sexual Economies: Race and Sex in a Culture of Capital (2019).
Additional speakers and panelists will be selected from the call for papers competition.
2023 Registration Information
The registration fee for in-person conference attendance is $150 for students and $300 for other participants. The fee includes admission to all program events, a buffet supper on Sunday, lunch on Monday, a picnic at Rowan Oak on Wednesday, conference session refreshments, and a closing reception on Thursday. The fee does not cover lodging, the optional guided tours of Faulkner Country, or meals, except for those aforementioned.
For international scholars, instructors, students, and other Faulkner lovers subject to travel restrictions that prevent attendance in person, there is also a remote option that will allow you to attend conference sessions online via Zoom. Registration for the remote option is $50 for students and $100 for other participants and does not include social events.
Please note that conference registration for the in-person and remote options is now online. See instructions below.
Student Group Discount Package: A special package is available for five or more students who attend the conference in person as a group. The package includes a reduced conference registration fee of $100 for all student members; the designated group leader will receive a complimentary registration. Accommodations, travel, and meals (other than those covered by the conference registration fee) are the responsibility of the individual. To initiate a group registration, please contact Mary Leach at pdlljac@olemiss.edu or 662-915-7847.
A limited number of registration-fee waivers are available for graduate students who are not presenting work at the conference but are interested in attending. Contact Jay Watson, director, at jwatson@olemiss.edu for details.
Refunds. A refund will be made, less a $20 service charge per registration, for conference registrants who cancel their plans by July 7. No refunds will be made after that date. To initiate a cancellation request, please contact Mary Leach at pdlljac@olemiss.edu or 662-915-7847.
ACCOMMODATING SPECIAL NEEDS
If you require assistance relating to a disability or have special dietary requirements, please contact Mary Leach at pdlljac@olemiss.edu or 662-915-7847 at least 14 days prior to the conference.
LODGING
On-campus lodging is available at the Inn at Ole Miss, which offers special conference rates. Lodging in and near Oxford is available at hotels and other facilities. Conference participants should make their own reservations. Please note that on-campus housing in University of Mississippi Contemporary Halls will not be available for the conference dates.
TEACHING FAULKNER
All registrants, whether they are teachers or not, are welcome at these sessions.
REGISTRATION FOR FAULKNER AND YOKNAPATAWPHA IS NOW ONLINE
We hope that you will find the new online registration process to be easy and convenient! Annual commemorative posters and t-shirts can now be ordered online as well. Should you have any questions or encounter any issues during the registration process just give us a call and we will be glad to assist.
REGISTRATION INFORMATION
HELPFUL TIPS WHEN REGISTERING
Please have your credit card available when you begin the registration process. You will pay at the end of the registration process.
We only accept Visa and Mastercard credit card payments.
Only one participant can register at a time.
If you do not want to pay at this time, you can choose the "Bill Me Later" option and you will receive electronically a bill for your registration. Payment must be made prior to the start date of the conference. 
Commemorative posters and t-shirts can be ordered separately or as an add-on to your registration.
STUDENT GROUPS
A registration discount is offered for student groups of five or more attending the conference.
The student or student group leader should contact Mary Leach at 662-915-7847 or pdlljac@olemiss.edu to register.
Conference Schedule
Walk-up onsite conference registration opens Sunday, July 23, 2023, at 12:00 p.m. at Nutt Auditorium. A reception at the University Museum is set for 1:00 p.m., followed by the first keynote speaker at 2:30 p.m. The conference will conclude with the closing party scheduled for the afternoon of Thursday, July 27. A detailed program will be provided with the conference registration packet.
Conference Details
SPONSORS
The Faulkner and Yoknapatawpha Conference at the University of Mississippi is sponsored by the Department of English and the Center for the Study of Southern Culture and coordinated by the Division of Outreach and Continuing Education.
UNIVERSITY MUSEUM EXHIBITIONS
During the conference week the University Museum is hosting several temporary exhibits to complement its permanent collection. One of the exhibits, Blurred Lines, features works from the W. Forrest and Joan Stevens Collection, including Andy Warhol, Pablo Picasso, and Alexander Calder, that disrupted the status quo in art, from modernism into the postmodernism movement.
LIBRARY DISPLAYS
The Department of Archives and Special Collections is hosting The Southern Plate: An Archival Exhibition on Food of interest during the conference week. The department is located on the third floor of the J. D. Williams Library and is open Monday through Friday, 8:00 AM to 5:00 PM. For more information, please contact Greg Johnson at gj1@olemiss.edu or 662-915-1595.
ANNUAL DISPLAY OF UNIVERSITY PRESS BOOKS
Books published by the University Press of Mississippi and select other members of the American Association of University Presses will be exhibited from Sunday, July 23 through Wednesday, July 26, in Music Building 148.
GIFTS
Gifts from the William Faulkner Society, as well as dona­tions in memory of John W. Hunt, Faulkner scholar and emeritus professor of literature at Lehigh University, have been made to support the conference and the John W. Hunt Scholar at this year's conference.
TRANSPORTATION
Those who plan to fly to the conference should book their flights to and from Memphis (Tennessee) International Airport (MEM). From Thursday, July 20, to Sunday, July 30, the Division of Outreach offers a shuttle service for conference participants who arrive at the Memphis International Airport (approximately 75 miles or 1 hour and 15 minute drive). The cost of the shuttle is $145 round trip or $95 one way. Shuttle reservations must be made and paid for at least seven business days in advance.
If you would like to use the Division of Outreach shuttle service, please contact the Transportation Office, Division of Outreach and Continuing Education, via email at shuttle@olemiss.edu no later than July 10, 2023, to make your reservation. Your email must include the following information:
Subject line: Faulkner Conference
Name of passenger(s):
Flight date(s):
Flight number(s):
Flight arrival/departure time(s):
Passenger's cell phone #:
Passenger's email:
Location at which to be dropped off or picked up in Oxford:
Shuttles will be confirmed via email by Tuesday, July 18. Please meet your shuttle driver inside the airport at Baggage Claim, Area B escalator.
Memphis Shuttle Departures
*(Shuttle leaves the airport at these times.)
10:00 a.m.
2:00 p.m.
6:00 p.m.
Oxford Shuttle Departures
**(Shuttle leaves the Inn at Ole Miss at these times.)
8:00 a.m.
Noon
4:00 p.m.
*Schedule your flight arrival 30–40 minutes (or more) before these shuttle departure times from Memphis.
**Schedule your flight departure three hours (or more) after these shuttle departure times from Oxford.
***Should your arriving flight be delayed, please call the Transportation After Hours phone at 662-816-7165 and, if necessary, leave a voicemail message with your name and new arrival time. If you are unable to meet the next shuttle(s) you will be required either to stay over in Memphis and take the 10:00 a.m. shuttle the next day or to rent a car.
OPTIONAL TOURS: Thursday, July 27
In-person attendees will be given an opportunity to spend a day touring one of the areas listed below. All tours depart from Oxford at 9:00 a.m. and return around 3:30 p.m., except where noted. The tours are optional and are available for an additional fee of $120, which includes lunch.
Oxford/Lafayette County: This tour, led by Jay Watson, moves throughout Oxford/Jefferson and Lafayette/Yoknapatawpha County to visit a number of homes, buildings, and other sites associated with Faulkner's life and writings. Some walking is required.
New Albany and Ripley: The Falkners came to Oxford from Ripley and New Albany. The tour, led by Jack D. Elliott Jr., travels to the New Albany Museum and then on to the Ripley City Library, where participants will hear about the Ripley/Faulkner background. The tour will go to the Ripley cemetery, where Faulkner's great-grandfather, "the Old Colonel" and model for John Sartoris, is buried beside his impressive statue.
The Mississippi Delta: This tour, led by Scott Barretta, consists of a circuitous drive to Clarksdale by way of Charleston, Sumner, and Tutwiler. The tour focuses not only on the hunting camps of Faulkner's fiction but also on the music of the Delta, the Mississippi Blues. The Delta Blues Museum in Clarksdale is the centerpiece of our visit there. After lunch, we wind our way back to Oxford and usually return between 4:30 and 5:00 p.m.
African American Heritage in Lafayette County: Led by Rhondalyn Peairs, this tour visits significant sites in the African American histories of Oxford and Lafayette County.
FAULKNER POSTERS
Flat copies of Faulkner and Yoknapatawpha Conference posters with illustrations by Glennray Tutor (1989, 1990, 1993, 2017), John McCrady (2003, 2005), and William Faulkner (2007) and with photographs by Martin Dain (1996, 2009), Jack Cofield (1997, 2000), Bern Keating (1998, 2014), William Odiorne (1990), Budd Studios (2002), Phyllis Cerf (2008), Alfred Eris (2010), Henri Cartier-Bresson (2011), and from the Cofield Collection (2001, 2019), the Memphis Commercial Appeal (2006), and the Library of Congress (2018) are available for $5 each plus tax, shipping, and handling. To order posters, please email pdlljac@olemiss.edu with the quantity and poster(s) you are interested in purchasing.
SPECIAL THANKS
The 2023 Faulkner and Yoknapatawpha Conference poster is produced through the generous support of the City of Oxford and the Oxford Partnerships Program of Visit Oxford.
The conference organizers are grateful to all the indi­viduals and organizations that support Faulkner and Yoknapatawpha annually and offer special thanks this year to the College of Liberal Arts, the Center for the Study of Southern Culture, University of Mississippi's Division of Outreach and Continuing Education, University of Mississippi Libraries, University Museums, Off Square Books, the City of Oxford, and the Oxford Convention and Visitors Bureau.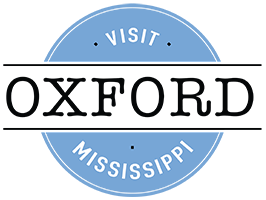 Contact Information
For more information concerning the conference, contact:
Division of Outreach and Continuing Education
Office of Professional Development and Lifelong Learning
P.O. Box 1848 • The University of Mississippi
University, MS 38677
Telephone 662-915-7283
Fax 662-915-5138